complete system question
03-25-2010, 04:20 PM
0 Watt CAFz'r
Join Date: Mar 2010
Posts: 8
complete system question
---
hey guys-
I'm new to car audio, so I'm hoping you guys can help!
My friend is selling his complete car sound system for $500 obo.. it includes the following:
4 - 3-way pioneer speakers, 180 watt output. ($100)
2 - 500 watt 12 inch pioneer subs with sealed box. ($100)
An 800 watt 4-way MTX amp (4x200watts). ($200)
2007 Pioneer P6700MP deck with seperate iPod connection that charges your iPod and allows you to control the iPod from your deck.
Seems like a good deal to me (Canadian dollars).. what do you guys think?
But my main question would be, wouldn't this mean the subs are underpowered? I don't really know anything about car audio, but 4x200 watt slots with two of them going to 2 500 watt subs.. does that even work? And would the whole system be able to run off the amp/deck? or would i need to buy another amp?
Heres is a pic of the speakers: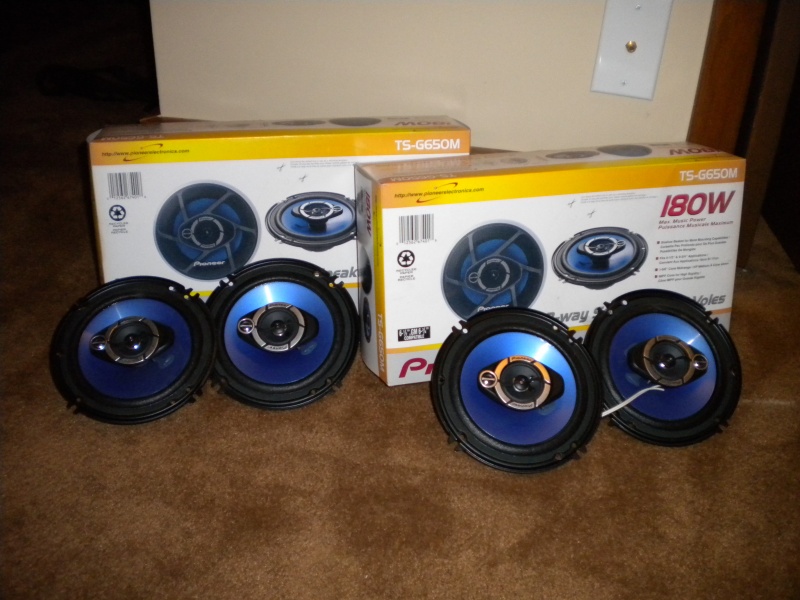 How do I know if these will fit in my car? I have a '94 accord 2 door if that helps
I know this is a lot.. but thanks in advance! any help is appreciated
03-25-2010, 04:49 PM
500 Watt CAFz'r
Join Date: Dec 2008
Posts: 968
well you wouldn't be able to buy that stuff brand new at that price, so in that sense it is a good deal. Have you listened to the system before? If it sounds good to you, then It's a good deal. Most of the equipment is entry level Pioneer, so don't expect too much. That said, not everyone is "into" car audio the way most folks are on here, so expect lots of advice on upgrading right off the bat. Personally, if you like it, get it...you can always upgrade later if you want to. If it didn't sound good to you in his car, then chances are you won't be happy with it in your car!
03-26-2010, 03:47 AM
As far as buying "used" equiptmen, you could do faaarrrrr better with 500 dollars. most of the ratings you mentioned are "max" ratings (useless) You 180 watt 3 ways are prolly more like 40 watts rms, (always use the rms watts rating)
The Amp you listed is is probably more like 50x4 rms, the subs 150 wrms.... get the idea? Exact model numbers would help identify better.
Everything as used is grossly overpriced in my opinion. If you really want to buy the system i wouldnt offer him more than 250.00, and i would use the 4 channel to run the " highs" which would leave you needing an amp to run the subs. The 4 channel isnt ideal for subs anyways and is pretty weak in the power department.
03-26-2010, 09:21 AM
500 Watt CAFz'r
Join Date: Dec 2008
Posts: 968
03-26-2010, 02:21 PM
0 Watt CAFz'r
Join Date: Mar 2010
Posts: 8
thanks Denonite
and thanks for the input sunfired. This will be my first system so I really don't know what any of these numbers mean.. I'll try the $250 offer
It's just ridiculous to me when I go into the car audio stores around where i live (Barrie) and the bare minimum for entry level low quality I'm looking at $1100 for a complete system
03-26-2010, 04:08 PM
0 Watt CAFz'r
Join Date: Mar 2010
Posts: 8
well he replied saying $350 would be the minimum he would consider.. it seems like a deal to me, including the wiring and everything and with the ipod charger etc.
its hard to find used subs in boxes that will actually fit my trunk.. but anyways, is that equipment really not worth that much?
03-26-2010, 04:47 PM
If its worth it to you, and will satisfy your listening requirements i say go for it i guess
If it were me, i would pass on it and look for better equiptment. The system i have in my car right now i bought seperately and " used" spent a total of 250.00. If i had bought "new" i would have paid close to 2 grand or possibly more. It helps to know what your looking for and have some patience and wait for the good deals to come up, a little luck helps too
You being way up north doesent help your case either tho
Most of that equiptment looks like the cheap stuff they sell at crappy tire to me, probably doesent retail for much more than what hes asking for it used.... not a close friend i assume?