1995 grand am build log..kinda
04-18-2010, 09:35 PM
--SPECIAL ED--
Join Date: Dec 2008
Posts: 467
1995 grand am build log..kinda
---
well... the new build has started
last build was in a 1994 cavalier that is now gone... ( blew it up...)
equipment
deck : pioneer 5900
speakers : infinity kappa 5 1/4s and MB quart 6 1/2s in front doors
subs : 2 DD 9512Fs
speaker amp : kenwood 728s
sub amps : 2 audiopipe AP3001Ds
box : to be assigned....but will be a fancy box to say the least
wiring : 2 1 gauge runs to the back
alt : stock....for now
batts : 2 redtops and 1 kinetic hc 1800
not many pics right now
only got deck installed wire half ran to back seat and front speakers mounted into doors
subs will be firing forward in possibly a parallel 6th order bandpass since the pics ive cut the steel out to the black line you see so back seats will still use mounting tabs and everything will just have a bigger opening to fit a bigger box in ( for now box will be 15tx36wx30d )
i still need to get more power for amps.. that will come eventually kinda a slow build but will be done shortly other then alt/batts
my goal is to get a 150 burp atleast
pics!!! none of the car yet... lolz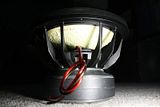 04-19-2010, 09:07 PM
--SPECIAL ED--
Join Date: Dec 2008
Posts: 467
lil update and more pics!!
got the doors amped today...wowww what a differance in SQ ive lways ran amped speakers but so i had some tunes till igot around to amping them it was just running off HU power till tonight ( if that makes sence? haha)
got batts in the back wire up
made an amp rack in spare tire well to hide it and save space
all thats left to do is put subs in the car
i have a temp box ill be using till i get around to building another one
will still need to switch front batt out and then find a HO alt for the car
then all the testing to follow till i break the 150 mark!
pics!
the car will be sitting much power once everythings in to hopefully the insane wheel gap is gone but i think ill be bottoming out exhaust quite often!..ill have to get a sound clip of the exhaust.. sounds nice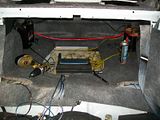 http://www.youtube.com/watch?v=7ie7r1Tvg-U
04-20-2010, 07:01 PM
--SPECIAL ED--
Join Date: Dec 2008
Posts: 467
alright so...
got it up and playing but only on 3000rms so far and holy dam! i think its louder then my 4 10s in the 6th order were... deffinatly surprised me when i first heard it

will have to get a vid of all the flex, the trunk has a good 1/2 - 3/4" of flex all doors flex quite a bit.... everything inside flexes if i get out of the car with it playing the back of the seat will adjust itself

and this is all just thrown together... no testing a temp box on half the power i plan to run woot!!
no pics of todays work will get a vid tomorrow!
04-20-2010, 07:24 PM
--SPECIAL ED--
Join Date: Dec 2008
Posts: 467
with time.. it will all come lol still need to get it legally on the road haha temp plate ftmfw!!!
it didnt drop as much as i thought it would with batts and subs in the back up i got a guy getting me a quote on drop springs