2011 Dodge Ram Club Cab install...need help shopping.
05-29-2011, 08:43 PM
0 Watt CAFz'r
Join Date: May 2011
Posts: 25
2011 Dodge Ram Club Cab install...need help shopping.
---
Hi All

Just purchased my first new truck in 8 years. Very excited, but also disappointed with the "Premium" 730N factory stereo. Now, the head unit is very cool, and I don't want to replace it. But the rest of the stereo lacks in almost everything I'm looking for. Loudness, clarity, quality and bass.

Onto the shopping list. I will dedicate one post to each piece of equipment.

Stock setup is

3.5" in dash
6X9 in front doors
6X9 in rear doors
"Subwoofer" under rear passenger seat
05-29-2011, 08:55 PM
0 Watt CAFz'r
Join Date: May 2011
Posts: 25
First things first - preamp equipment
---
So, I understand I need some sort of a interface type device to clearly send an RCA signal to the amp. I would also like to have a little more control than
"Bass-Mid-Treble" as well as subwoofer volume control.
Here's what I'm leaning towards as of now:
PacAudio CHY23 – MSRP $149.99
http://www.pac-audio.com/productDeta...&CategoryID=28
The reason that I like this interface is because of the pain free installation. Basically plugs right into the wiring harness. The JL cleansweep makes no mention of a harness so I'm assuming I'd have to splice into the wires?? Along with something like this to control sub levels and to have a little more control of the sound of the stereo
Clarion EQS746 ($70-$100)
http://www.clarion.com/ca/en/products/2011/audio/accessories/EQS746/ca-en-product-pf_1259491098652.html
*Note - I have very little experience with these, I am looking for recommendations on quality brands, with an MSRP of $300 or lower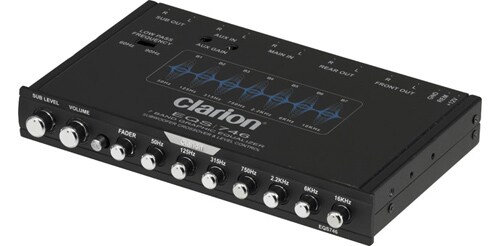 ---
Last edited by Frank Drebin; 05-29-2011 at

09:28 PM

.
05-29-2011, 09:01 PM
0 Watt CAFz'r
Join Date: May 2011
Posts: 25
Amplifier
---
Strongly leaning towards a 5 channel amp because of size issues and ease/simplicity of operation.
The Alpine PDX-5 MSRP - $599
http://www.alpine-usa.com/product/view/pdx-5
Seems to be a great value. I don't need to smash windows, but a conservative 300W RMS to the sub should give me all the bass I need.
Add the fact that its so tiny - 10.5" X 8.5" X 2.5" so I think I can throw it under either the drivers back seat (preferred) or for sure under the front seat.
I'm open to other suggestions on this but I'm kinda partial to this guy.
05-29-2011, 09:09 PM
0 Watt CAFz'r
Join Date: May 2011
Posts: 25
Speakers
---
I do not plan on upgrading the dash speakers. I plan on sending the 75WX4 to a set of 6.5" components in each of the doors.
Front doors I plan on putting the midbass in the door and the tweeter where the mirror controller is shown in this pic: (door pillar??)
This is what I'm thinking for the front:
Boston Acoustics PRO60SE 6.5" 500W Components Speakers – MSRP $599 ($279)
http://www.bostonacoustics.com/%2FPRO-C261.aspx
And for the rears:
Rockford Fosgate Power T1652-S – MSRP - $449.99 ($170)
http://www.rockfordfosgate.com/products/product_details.asp?item_id=112904&locale=en_US
Now, are the Boston's worth the upgrade in front? Am I better off just going with the Rockfords all around? (I can't afford to do Boston's all around...)
05-29-2011, 09:14 PM
0 Watt CAFz'r
Join Date: May 2011
Posts: 25
Subwoofer
---
I haven't put too much thought into the subwoofer, I plan to hook up the factory guy to real Alpine power and see how long it lasts, then look at a stealthbox or similar.

Dynamat:
Convince me it's a good idea to dynamat my floor. The new truck is considerably quieter inside than the old truck (2003).
If I can get a noticeable improvement in reduction of road noise I will do it.
If it's to help sound quality in the truck only, its not worth my time.
Are the doors worth doing...basically steer me in the right direction here.
I don't need a
capacitor
for this amp do I?
Thanks all
06-05-2011, 09:53 PM
50 Watt CAFz'r
Join Date: Oct 2006
Posts: 217
Dynamat/Alternative in a new truck would be mostly pointless.

Sometimes the doors can benefit from a treatment, but if the problem is that they are not sealed up, I would go with cascade VB2 or VB2HD instead.

That amp is stinking efficient, plus it already has a decent capacitor bank inside. So don't bother with an external cap.

I would recommend going with the new generation of PDX if you're doing the Alpine route though. Those silver ones had a bunch of noise and offset issues.

Other than that, if that module provides a clean signal as it claims you should be fine with the setup you've chosen.

I've never heard those speakers, so I can't advise for them.
06-06-2011, 09:33 AM
0 Watt CAFz'r
Join Date: May 2011
Posts: 25
Thanks Brad.

I have done some reading since posting, and I have read about the noise issues on the PDX amps. I have also read that 300W RMS may be a bit dissappointing for the subwoofer channel.

The only other viable option (sizewise) is the JLHD900/5, which is a significantly more powerful amp, but double the price. I'm trying to keep this a modest budget upgrade, so the PDX fits my wallet much better than the JL.

I was hoping you were going to tell me that about the dynamat, although I am going to try what I can in the doors.

Thanks again, glad this thread didn't go to page 2 without a single reply.
06-06-2011, 02:22 PM
50 Watt CAFz'r
Join Date: Oct 2006
Posts: 217
I would say that you're right about 300 watts being disappointing, especially in a big truck.

One thing you will want to do, if you do run the PDX 5 or another 5ch where the sub channel is around 300Watts RMS, is run a very sensitive sub. This means usually running the 'cheap' subs that manufacturers make. There is nothing wrong with them (ie: JL WX, Alpine Type E, Kicker Comp) except that they won't handle much power.

TLDR: Don't buy a high power sub to go with your low power sub-amp. A low power sub will be louder.

--

One thing I might recommend is running the PDX-F4 or F6. In which case you would amplify the front two speakers and bridge channel 3 and 4 to the sub, leaving the rears unamplified (they're just there for fill, anyway).

At one of the conferences I attended this year with my job, one of the Alpine engineers bench tested a few of the new PDXs right in front of us and on average the PDX-F6 put out 800 watts RMS to 4ohms from the bridged 3/4channel. Which is crazy because they are 'rated' for 300watts still.
---
Last edited by BradSk88; 06-06-2011 at

02:26 PM

.